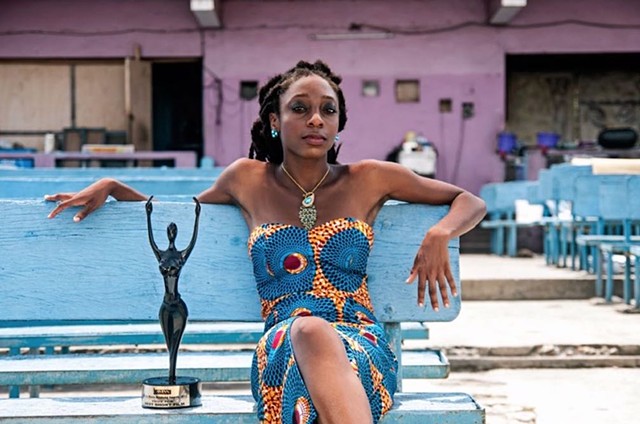 © Yaanom Multimedia Solutions
BIOGRAPHY
Akosua Adoma Owusu is a Ghanaian-American filmmaker, producer, and cinematographer. She is currently a Visiting Lecturer at Harvard University and an Adjunct Assistant Professor at the Pratt Institute in Brooklyn. Her films explore the colliding identities of black immigrants in America through multiple forms ranging from cinematic essays to experimental narratives to reconstructed Black popular media. Owusu aims to create a third cinematic space or consciousness. In her works, feminism, queerness, and African identities interact in African, white American, and black American cultural spaces.
Since 2005, Owusu's films have screened internationally in festivals and museums including the New York Film Festival, Berlinale Film Festival, International Film Festival Rotterdam, Locarno International Film Festival, Toronto International Film Festival, Anthology Film Archives, MoMA and the BFI London Film Festival. Named by IndieWire as one of six preeminent "avant-garde female filmmakers who redefined cinema," she was a featured artist of the 56th Robert Flaherty Film Seminar. Owusu's work is included in the collections of the Whitney Museum of American Art, the Centre Georges Pompidou, and the Fowler Museum at UCLA. Recent projects include Welcome to the Jungle (2019) a multi-channel video installation made in collaboration with the CCA Wattis Institute.
She has received numerous awards and grants including the Gardner Film Study Fellowship (2021), the Lincoln Center Award for Emerging Artists (2020), the Camargo Foundation Fellowship (2016), the Guggenheim Memorial Foundation Fellowship (2015), the Africa Movie Academy Award (2013), the MacDowell Colony fellowship (2013) and the Creative Capital fellowship (2012).
An alumni of the Berlinale Talent Campus, Owusu holds master's degrees in the School of Film/Video and School of Fine Art from California Institute of the Arts, which she earned in 2008. She graduated with a Bachelors interdisciplinary degree in Media Studies and Studio Art with distinction from the University of Virginia in 2005. Her films are now available for streaming exclusively on the Criterion Channel.